The Martin Jetpack was an experimental single-person aircraft under development. It was introduced in 2008 and retired in 2019.
Despite its name, it was not utilizing a jet pack. Instead, ducted fans was used to achieve the lift. They were powered by a petrol (gasoline) engine and the user would therefore not need to procure specialized aircraft fuel.
Most helicopters require a tail rotor to counteract the rotor torque, and this makes pretty much everything – from building the aircraft to flying it and maintaining it – rather difficult. The Martin Jetpack was designed to be torque neutral in order to simplify construction, operation and maintenance. It had no tail rotor, no collective, and no foot pedals.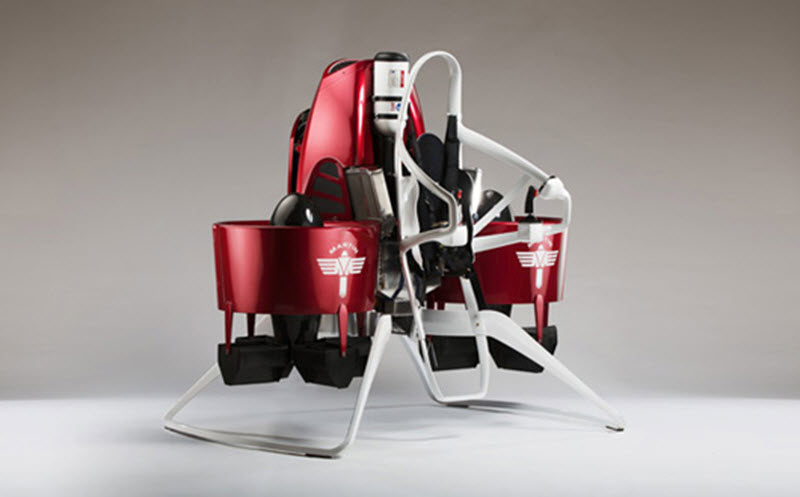 The pilot would strap into the aircraft and not sit in it, but it was not classified as a backpack device because walking while strapped in was not possible.
The Martin Jetpack was specified to have a maximum speed of 40 knots (74 km/h), with a cruise speed of 30 knots (56 km/h) at 152 m minimum altitude. The range was slightly more than 33 km, and the endurance circa 30 minutes of flight.
The business plan was to initially develop Martin Jetpacks for military and emergency first responders around the world, and governments were expected to make up a large share of the first wave of buyers.
Description
The Martin Jetpack was a small vertical take-off and landing (VTOL) aircraft for one person. Two ducted fans provided lift, powered by a 2.0-litre V4 piston 200-hp gasoline engine. It used the same petrol (gasoline) as for cars, which is much easier to find outlets for compared to specialized aircraft fuels.
During flight, both pitch, roll and yaw was controlled by one hand and only height by the other.
Capacity: 120 kg payload
Empty weight: 200 kg
Max takeoff weight: 320 kg
Version P12
In preparation for the manned test flight, a new prototype was constructed: the P12. It featured several improvements, inlcuding a lower position for the ducts (to provide increased maneuverability) and a fully integrated fly-by-wire system.
The Martin Aircraft Company of New Zealand
The Martin Jetpack was developed by the Martin Aircraft Company of New Zealand.
Important: The New Zealand company was not related to the United States-based Glenn L. Martin Company, even though the U.S. company was also known as Martin Aircraft.
Glenn Neal Martin founded the Martin Aircraft Company in New Zealand.
Glenn L. Martin founded the company Martin Aircraft in the United States.
Reveal
The Martin Jetpack was unveiled at the Experimental Aircraft Association´s 2008 AirVenture in Oshkosh, Wisconsin, USA.
United States FFA
The Martin United States Federal Aviation Administration (FAA) classified the Martin Jetpack as an experimental ultralight aircraft. It did meet the FFA requirements regarding weight and fuel restrictions for ultralight aircraft, but did not meet the requirement for power-off stall speed.
Short facts about the Martin Jetpack
Designer: Glenn Martin
Length: 1.75 m
Width: 2.4 m
Height: 2.2 m
Main rotor diameter: 2 × 0.8 m
Main rotor area: 1 square metre Carbon/Kevlar composite ducted fans
Powerplant: 1 × Martin Aircraft Company V4 V-4 piston engine, 150 kW (200 hp) at 6000 rpm
Fuel capacity: 45 litres
Service ceiling: 910 m (3,000 ft) AMSL
Rate of climb: 2.0 m/s
Disk loading: 320 kg/square metre
Power/mass: 0.467 kW/kg (0.284 hp/lb)
Landing gear: Carbon fibre
Safety feature: Low opening ballistic parachute
History
In the 1980s, Glenn Neal Martin began working on the Martin Jetpack in his garage in Christchurch, New Zealand. It would take until 2008 before the aircraft was unveiled.
On 29 May, 2011, a remote controlled unmanned test flight was completed to 1,500 metres above sea level. The ballistic parachute was also tested, with success.
In August 2013, the New Zealand Civil Aviation Authority (CAA) approved a limited set of manned test flights for a second version of the Martin Jetpack; the Martin Jetpack prototype P12.
In 2015, Glenn Martin resigned from the project.
In 2015, the company was listed on the Australian Securities Exchange (ASX:MJP). As a part of the listing documentation, the company stated that the Martin Jetpack would become available on the market in late 2016 and had an expected price tag of circa 250,000 USD.
In November 2015, it was reported that Dubai, UAE had placed an initial order for 20 units, plus simulators and training, for delivery in 2016.
In 2016, the Martin Aircraft Company CEO Pete Coker was replaced by the former CFO James West.
In 2019, the company closed down, and the Chinese company KuangChi Science – which at this point owned 52% of the Martin Aircraft Company – announced that they were looking for someone to purchase the few remaining assets.