Éolienne Bollée is an unusual type of wind turbine, where the wind passes through a set of fixed blades (stator) before driving the windmill itself (rotor). It is very unusual for wind turbines to have both stator and rotor, but very usual for water turbines to have that configuration.
Éolienne is the French word for wind turbine, and Bollée is the surname of the inventors who patented the Éolienne Bollée.
The Éolienne Bollée was patented and sold in the 19th century. In the early years of the business, a majority of the buyers were aristocrats and well-off gentry, but six Éolienne Bollées has been sold to municipalities by 1888. Auguste Bollé sold the business to Édouard-Émile Lebert in 1889, and with Lebert at the helm, more Éolienne Bollées were sold for use by communal water supply operations.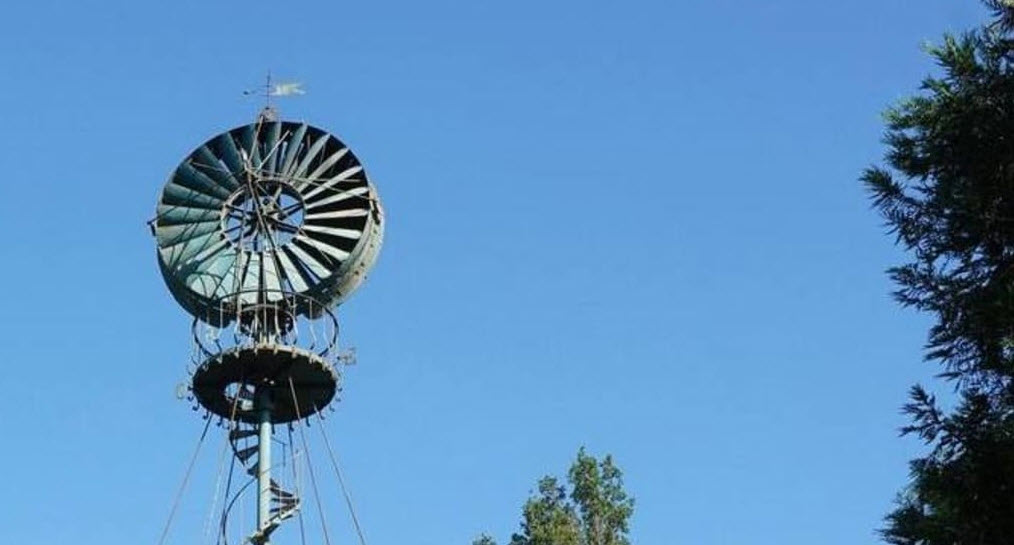 Most Éolienne Bollées were sold within France, but some were exported. Two went to a monastery at Cowfold, Sussex, England (only post-Reformation Carthusian monastery in the United Kingdom), and one of these two have been restored. A monastery at Tarragona in Spain also purchased one, and at least two were erected in Africa: one at a hospital in Tunisia and another one in Cotonou, Benin (then Dahomey). We also know that one Éolienne Bollées crossed the Atlantic and was put into use by a mining operation in Brazil.
Some Éolienne Bollées have survived into our time, including one that is kept in a museum in Orléans and the abovementioned restored one in Cowfold, England. In France, the oldest known specimen is found in in Saint-Jean-de -Braye, not far from Orléans. There is also one in working order at Épuisay, Loir-et-Cher, and a restored one that is now in working at Château Bouvet-Ladubay in Saumur.
Design
Combine the modules
The Éolienne Bollée was constructed in modular form, which made it fairly easy to build Éolienne Bollées of various configurations.
Examples of available sizes were 2.5 metres, 3.53 metres and 5 metre in diameter.
The 2.5 m version had a 24 blade stator and an 18 blade rotor.
The 3.53 m version had a 34 blade stator and a 24 blade rotor.
The 5 m version had a 44 blade stator and a 32 blade rotor.
Pumps were available in seven different sizes: 33-millimetre 42-millimetre, 52-millimetre, 65-millimetre, 80-millimetre, 100-millimetre, and 120-millimetre diameter.
The tower
The tower is either of the standard pylon type (triangular or square plan) or consists of a cast-iron column with an external spiral staircase.
The cast-iron column was made in sections, where each section was 2.85 metre long and 17.5 cm in diameter. Each section would have 12 cast-iron treads, so when combined, the steps on the column sections would together create a complete spiral around the column.
The turbine
The turbine is comprised of two rings. The first ring is the stator and the second ring is the rotor. The stator has more blades than the rotor.
The 1885 patent version had a funnel affixed to the stator, which made it possible to catch wind from a larger area than the rotor, and also increase the wind´s speed through the turbine.
A small fantail was working upwind of the rotor. Through a system of gears, the fantail would turn the turbine to make it face the wind. Also, a counter-weight system was in place to make the fantail turn the turbine out of wind if the wind speed got dangerously fast. (This was to prevent very strong winds from damaging the turbine. The fantail would position the Éolienne Bollées edge-on into the strong wind.)
Pumping
This was the claimed pumping capacity for a 3.53 m version with a 65 mm pump:
1.4 cubic metres of water per hour in a 4-metre-per-second wind
1.8 cubic metres of water per hour in a 5-metre-per-second wind
3 cubic metres of water per hour in a 6-metre-per-second wind
4 cubic metres of water per hour in a 7-metre-per-second wind
The windpump business
The Éolienne Bollée was first patented in France in 1868 by Ernest Sylvain Bollée (1814 – 1891) and Auguste Sylvain Bollée (1814-1906), who lived in Le Mans, Sarthe. The original patent had patent No. 79985.
There is also a further patent from 1885 for a configuration that differed mainly in two ways:
How the turbine was turned to face the wind.
Through a design improvement that caused more wind flow through the turbine.
It was the Éolienne Bollée turbines built according to the 1885 patent that became a commercial success. (Patent No.167726.)
Ernest Bollée, who was a hydraulic engineer, suffered from poor health in the 1860s and delegated control of the three parts of his business to each of his sons. The wind engine manufacturing part of the business thus came into the hands of Auguste Bollée.
In 1889, Auguste Bollé sold the wind engine business to Édouard-Émile Lebert, after making an estimated 260 Éolienne Bollées. Lebert kept the business until 1918, when it was passed on to Gaston Duplay.
Société Anonyme des Éoliennes Bollée (SAEB) was founded on 1 January, 1926. We know that this company erected at least three 7-metre ones.
It is unclear why, but SAEB operations seem to have come to a halt in the early 1930s.